Molly Sims, Rosario Dawson and the couple of the hour, Prince William and his wife Kate Middleton attended the Foundation Polo Challenge held at the Santa Barbara Polo & Raquet Club earlier today.  The ladies all looked very classic and glamorous with their must have styles.
Molly Sims and Stuart Weitzman
Molly Sims dressed to perfection with this beige flower cutout dress, beige clutch and gold heels like Stuart Weitzman Evening Swag in Gold.
Kate Middleton and Kate Spade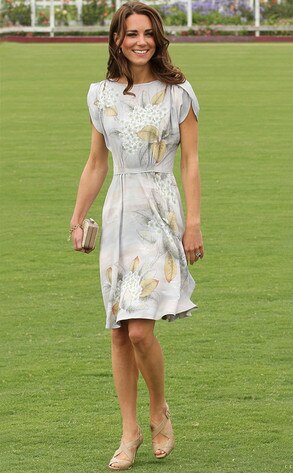 We have been keeping a close watch as the royal couple makes their way across America and there is no denying that Kate, aka the Duchess of Cambridge, has impeccable style.  Here she wore a Jenny Packham hand-painted silk dress and tan sandals similar to Kate Spade Gilda Platform.  Kate Spade shoes are all about classic glamour and tan heels are always essential, they go with everything and elongate your legs.
Rosario Dawson and Stuart Weitzman
For the second time this week Rosario Dawson charms us with her style, this time around with a classic all black look drawing attention to her snakeskin pumps.  If its red or beige, snakeskin will be a big trend for fall and the Stuart Weitzman Naughty cover the basics. Buy them now,  wear them now and later!