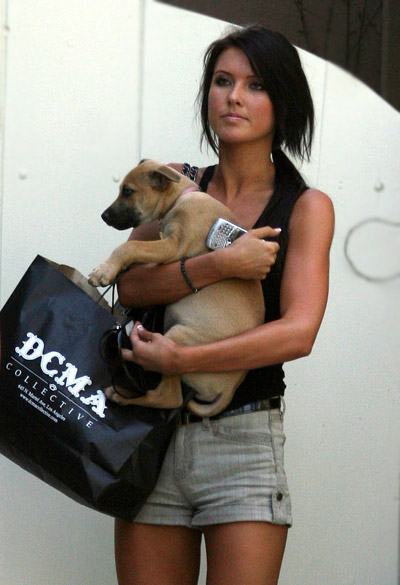 STARS & THEIR PETS
As shocking as it seems, stars do normal stuff just like us regular people do. They pump gas, go grocery shopping and hang out with their furry friends. Dogs and stars go together like peanut butter and jelly.
Kelly Osbourne and her little black dog Pomeranian, Sid, look charming together%u214although the little guy looks like a bat. Plus, he's so little that he needs to be carried rather than walked.

Teri Hatcher and her cockapoo esque dog look perfect together. She's got him trained to go shopping.
Miley Cyrus has three dogs and needs her dad's help to get them corralled. You can see them in Toluca Lake (a suburb in The Valley in California) walking them on a regular basis.
And every now and again you can catch Mischa Barton bundled up in a heavy black coat walking her Pomeranian in New York's East Village.

But more important than their pets is their footwear they need to be stylish and comfortable. When they're not kicking it in their Converse low tops
, it's all about boots. Teri Hatcher has been photographed many times walking her dog in Frye boots
. But more often then not, it's the Ugg ™ either the classic short sherling or something a little more daring like the Lo Pro Button Boyfriend in denim
. And even their kids are sporting Ugg ™ as they tag along with their moms
.
For more photos of stars and their pets, go here: